FOWAI – "Flame Of Who Am I ?" is a website devoted to living in gentle awareness where one watches the ways of the self and sheds one's conditionings……..
INNER FLAME
Volume 6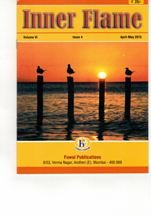 **************
SUBSCRIPTION FORM
(Bimonthly magazine of Fowai Forum)
**********
NEW
ARANI Series   Spark-12 uploaded on 21st  June 2015
Thus says:
   Swami Chidananda:
"Attachments and aversions are the undesirable gifts of the dead past. When you are alert, you are in the living present. The light of pure intelligence acts through you and you are not overpowered by the forces of old habit. You stand on the firm ground of freedom."
"O Arunachala, you root out the ego of those who meditate on you at heart."  
Insights  
Insights are certain special observations that Swami Chidananda shares with his readers / audience. …      
Management Topics
Here are thoughts on Value-based Management, on topics like Communication Skills, Leadership, Self-development, Emotional Intelligence etc….